---
A LOVING HEALING EXPERIENCE ;
Are you searching for a personalized plan designed to optimize your weight, energy, memory, hormone balance, bone density, and skin rejuvenation?

American Wellness Care uses advanced anti-aging technologies to determine and improve cellular aging, based on metabolic typing, laboratory testing, and genetics.
Dr. Kavulich offers her clients understanding and clinical expertise; a holistic, integrative approach to healthcare. She works with her clients to create cost-effective, personalized, goal-oriented programs.
SPECIAL PROGRAMS
Gentle, effective chiropractic, myofascial techniques, and low level laser are prescribed to optimize the brain and nervous system and to find long-sought answers to back and neck pain, chronic muscle tightness and headaches.
Clients also benefit from natural, customized nutritional programs backed by published, peer-reviewed clinical studies for noticeable improvements in weight control, energy, performance, and healthy aging.

Celebrating a 100th birthday with patient Gertrude. Loving that Anti-Aging Medicine!
LEARN MORE
If you are new to our website, please feel free to discover and learn about chiropractic wellness. If you are interested in starting your journey towards wellness please subscribe to our award winning newsletter below. If you are already a newsletter subscriber, please explore the member wellness section of our website for wellness articles, resources, and health facts---specifically targeted by Dr. Lynne E. Kavulich to your wellness needs and interests.


Schedule your appointment with Dr. Kavulich today using the form, or call American Wellness Care at (845) 221-1201.


Why choose ArthroStim® Chiropractic Adjustments?
The ArthroStim® is a sophisticated, hand-held, mechanical instrument which applies a high-velocity, low-amplitude pulse, twelve times per second, and targets a specific region. It is recommended by 20+ technique systems and supported by some of the most advanced Doctors of Chiropractic in the world.
Dr. Kavulich has specialized in this technique for over 30 years
The instrument produces a gentle speed thrust and recoil motion, similar to the way a chiropractor uses their hands to adjust the vertebrae in your back, which radiates through the joint and the tissues. It releases trigger points that are often the cause of muscle spasms. The ArthroStim® corrects subluxations which interfere with whole body function.
As opposed to traditional chiropractic adjustment techniques, use of the ArthroStim® does not cause the same popping and cracking noises in the joint that can make some people feel uneasy.
Cold Laser Therapy
Cold laser therapy, also called low-level laser therapy (LLLT) or photobiomodulation, uses amplified light delivered in a narrow beam to treat a variety of musculoskeletal ailments. Unlike surgical lasers, cold lasers penetrate the skin without burning or cutting.
The laser reaches into underlying tissues in need of treatment. There, it triggers increased cellular production of an energy source called ATP. Cells can then use this extra energy to rebuild and regenerate themselves.
Cold laser therapy also increases circulation in the tissues receiving treatment. This boost brings more oxygen and other healing ingredients to the cells while also helping tissues expel unwanted fluids or inflammatory byproducts. As a result, you experience a reduction in pain, swelling, and inflammation.
Dr. Kavulich has been an expert in low-level laser for over 27 years. Her skill and knowledge is sought by those seeking rapid recovery without drugs or surgery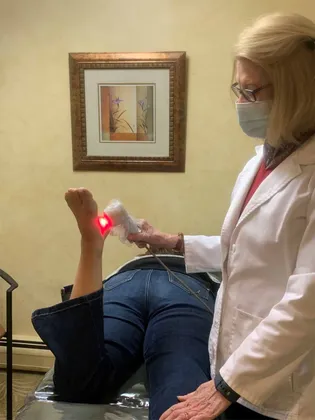 Pulsed Electromagnetic Field (PEMF)
The Quantum-Resonance-System "QRS" is a remarkable development in healing and wellness developed by Dr. E.G. Fischer. To develop this profound medical technology Dr. Fischer brought together world leaders in medical science. This included two global experts in the field: Dr. Linus Pauling and Dr. Robert O Becker. Dr. Pauling is a two-time Nobel Laureate for medicine and is considered the father of Orthomolecular Medicine. Dr. Robert O Becker a U.S. orthopedic surgeon, medical researcher and professor who many consider the key developer of electrophysiology and electro medicine. Their work together centered on Dr. Fischer pioneered Pulse Electro Magnetic Field (PEMF) therapy.
---


Caring For Your Nutrition

Dr. Kavulich is Board Certified in Nutrition and Anti-Aging.

Dr. Kavulich will evaluate your personal condition and help you achieve your goals. In addition to food and diet planning she uses a variety of nutritional supplements to fill your needs and produce results.


Remember, You Can Feel Great At Any Age!

American Wellness Care
Phone: 845-221-1201
Email: [email protected]